Decora Homes Ltd. | Saskatchewan Homebuilder [Profile]
It is my privilege to introduce to you all, a builder that is fairly new to the Regina Homebuilder's Association, Decora Homes Ltd.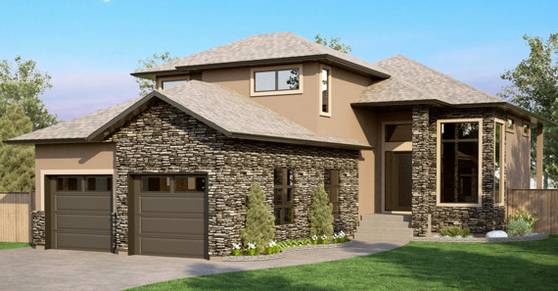 Decora Homes Show Home
I recently had the opportunity to visit one of Decora Homes' show homes located in Saskatoon, SK. There, I met with Rhonda Iula, co-owner of Decora Homes Ltd. During an impressive walk tour of the show home, Rhonda described the products and materials that were used to make each room unique. Features such as a custom 2 story stone fireplace, hidden wall speakers in a media/theater room, a walk-in wine cooler, and a built in hot tub on the deck, helped complete the feeling of distinction and contemporary style you get with Decora Homes.
Although this show home has already sold, this video shows the quality work of Decora Homes!
Decora Homes History
Together, Rhonda and her husband Ricky Iula, created Decora Homes Ltd in 2007. A career change spearheaded this Custom Home Building path, and Rhonda says it has grown well beyond their expectations. Decora Homes now has a staff of 6 people, including three site supervisors and an interior designer/decorator, along with Ricky and Rhonda in the office themselves.
"Building a Place for You to Call Home" Decora Homes
This is a fitting slogan for this company as the Decora Homes team ensures that they create a home to match their client's lifestyle, personality, and affordability needs. Decora Homes generally builds only one spec home a year, that they use as a show home, as the rest are custom built with their client's designs, layouts, and product choices in mind.
Opened in Saskatoon Expanded into Regina
Although this company originated, and is very popular in Saskatoon, Decora Homes has expanded into the Regina Home Builder's network. After a trip to Regina last year, the couple decided to include Regina in their Home Building efforts, as they noticed a need for the modern/contemporary style of house that Decora Homes is known for. Decora Homes currently has four homes under construction in the Greens on Gardiner division in Regina.
"We need to put a lot of focus and time into products and design so we stay ahead of everyone else." Rhonda Iula
Decora Homes uses reputable firms to complete all trades within their Custom Homes. By establishing professional relationships, Decora Homes ensures that all products and services are of top quality. Rhonda and Ricky have fun challenging themselves by thinking outside of the box when it comes to designing new and exciting plans for Decora Homes.
Decoa Homes for Sale
If you live in Saskatoon or area, please visit Rhonda and Ricki at their current Decora Homes Show Home at 834 Gillies Crescent in Rosewood. This house is a must see and is listed at $829,900.00. Here is the virtual tour of this property.

In Regina, Decora Homes currently builds pre-sold homes and plans to have a show home built in the near future. These Custom Built Decora Homes will start at $550,000.00, and can be built and move in ready within 6-8 months depending on sizes and products chosen.
Contact Decora Homes
You can find more information about Decora Homes through many networks including: Twitter: @DecoraHomes, Facebook Page: Decora Homes Ltd, Email: decorahomes@shaw.ca, Phone: 306-651-1750, Website: www.decora-homes.com
In addition, if you require financing for a purchase through Decora Homes, please don't hesitate to contact Heather Ramage, Licensed Mortgage Associate, at 306-537-1562, or ramagemortgage@gmail.com. I would love to help you find the perfect mortgage for your start with Decora Homes!
Heather Ramage
Living in Pilot Butte Saskatchewan, I am a big time hockey mom & volunteer. I love my church, my community, and I am a Licensed Mortgage Associate with First Foundation…
---