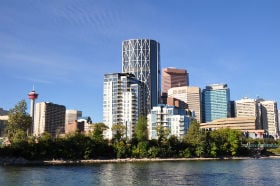 First Foundation is the first stop for people in Calgary who want to save money on their insurance, mortgages, and other financial services. Our unique combination of being both an Alberta brokerage and a financial services company gives our clients a wide range of solutions. You can contact our Calgary office to discuss your mortgage and insurance needs any time, or complete the entire process online if you prefer a hands-off approach. Either way, we're here to give you a wide range of choice for your mortgage, insurance, and financial needs.
---
Your Calgary Mortgage Broker
A mortgage broker can save you money and even find a mortgage for the many Calgary business people who own a small business. Banks tend to make it difficult for the self-employed to get a mortgage. First Foundation makes it easy. First Foundation offers choice from a wide variety of lenders to get you the mortgage product that you want, not the mortgage product a bank would prefer to give you.
First Foundation Mortgages, your Calgary mortgage broker, offers the following mortgage services:

Let First Foundation Mortgages provide you with the best mortgage interest rates available for your unique situation and employment history.
Apply with your Calgary mortgage broker today >>
---
Your Calgary Insurance Broker
An insurance broker is your executive assistant when it comes to your insurance. It doesn't cost you a cent to enjoy our personalized service of a Calgary broker, and we'll get the best rates for a policy that fits you.
First Foundation Insurance, your Calgary insurance brokers, picks from top-flight insurance companies across Canada to bring you a simple solution for:

Regardless of your insurance needs, clear and competitive Calgary insurance quotes are what First Foundation Insurance is known for.
Apply for an Insurance Quote Now>>
---
Calgary Financial Services
Canadians have one thing in common: debt. We try not to, but it inevitably happens at sopme point in our lives. Debt consolidation services can help Calgarians erase this debt so they can get a mortgage, start a business, and just realize their dreams of living debt-free. First Foundation also offers investment loans for those who want to increase their stake in the stock market or other areas, and reverse mortgages for seniors who want to switch up their retirement plans.
Call us to get started with your financial plan>>
---
Putting our Clients First
First Foundation has award-winning customer service and expertise. But we wouldn't have all of those awards if we didn't do one very important thing: put our clients first in everything we do. When you become our client, you're welcome to drop by or call to ask us questions. There are no stupid questions in our business, and we are here specifically to help you. We're big enough to save you money, and small enough to get to know you.
Let us show you how much money we can help you save on your insurance, mortgage, and other financial needs today by picking up the phone or contacting our Calgary offices.