Regina - Whitmore Park Community Garage Sale
June 8th 2013 - is when it all happens. There is going to be an all-day community wide garage sale this Saturday in Whitmore Park. How can I pass this up you ask... you can't. So I have taken the liberty of putting together a list of all the addresses of participating houses to help guide you to garage sale gold.
If you happen to get lost, just bring up this list on your smartphone while you are out and about!
I have attached the Google map as well, but you might just want to go on Google Maps on your phone, who knows, your GPS might guide you to every desitination!
4444 Acadia Drive
34 Beechwood Cres
165 Birchwood Cres
181 Birchwood Cres
174 Massey Road
152 McDougall Cres
125 McKee Cres
129 McKee Cres
248 McKee Cres
27 Mayfair Cres
124 Mayfair Cres
65 Malone Cres
241 Emerald Park Road
245 Emerald Park Road
30 Briarwood Place
82 Marsh Cres
91 Marsh Cres
101 Marsh Cres
103 Marsh Cres
4717 Castle Road
52 Richardson Cres
150 Deergrove Cres
112 Orchard Cres
2205 Dufferin Road
27 Hawthorne Cres
80 Cardinal Cres
116 Cardinal Cres
1708 Grant Drive
1805 Grant Drive
1824 Grant Drive
2908 Grant Road
2412 Grant Road
2408 Grant Road
2928 Grant Road
3076 Grant Road
3109 Grant Road
853 Shannon Road
909 Shannon Road
1312 Shannon Road
1209 Shannon Road
With over 40 Locations - this is bargain hunters paradise.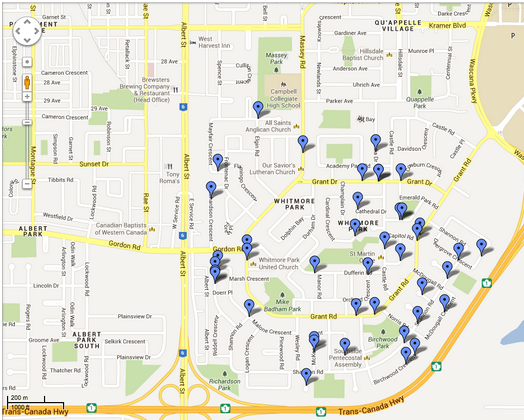 Enjoy your day!
Keith D Andrade
With a title that sounds like something out of a Martin Scorsese film, Keith Andrade has been Consigliere to Jackson Middleton since 2011. Keith started with Jackson at Highland Mortgage…
---