What is Your Home Really Worth? | Rockstar Homes
So my buddy Brin Werrett is a REALTOR® in Regina SK. He works with a team called Rockstar Homes part of Royal LePage Regina Realty.

Brin doesn't blog all that often but when he does, he brings it home (pun intended). I particularly liked one of his most recent posts on valuing property. I thought it was worth re-blogging because it does a fabulous job of digging a little into the psychology of buying and selling a home. Brin brings a lot of perspective to the table here.
How do you value these properties?
What originally caught my eye was this picture Brin shared on his Facebook and the comment about the value.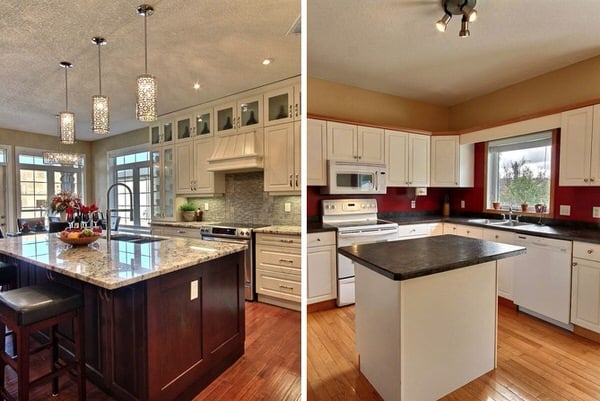 Pricing a home properly is one of the most important things we do. However, it might surprise you that when asked how much the following two homes were worth, my answer was... The same. ~ Brin Werrett
The following originally appeared as REthink - What is your home worth? on January 13th 2014 on the Rock Blog. I am sharing it with you here because I think it is a great read.
REthink – What Is Your Home Worth?
I'm going to let you in on a little secret...

There is no magical formula that calculates the exact price your home will sell for.

As REALTORS®, we can generate a ball park number based on recent comparable sales in your neighbourhood. Also, we can use some tricks of the trade and tools to do our best to achieve the best sales number possible for your home, but the truth is, we never know for sure until we've exposed your home to the market.

Proper market exposure, and done so in way that best communicates the value of your home, is the best way to achieve top dollar for your home. But what is top dollar?

Of all the lessons I've learned in real estate so far, one stands out as the most important. Your home is worth what someone is willing to pay for it!

Once again for emphasis…what someone is willing to pay for it. It's why we see two identical homes sell on different days for different amounts. It's why some sellers are able to turn a profit and why others don't. It's also the driving force behind why some homes sell quickly and others sit for months.

A home's value is equal to the amount a buyer is willing to pay. That number is driven by the buyer (not the seller) and affected by the buyer's exposure to current market supply/demand, the buyer's motivation or urgency to buy and most of all, perceived value.

Driven by the buyer? Doesn't the seller set the asking price?

True, but buyers and sellers see asking price differently. Sellers believe asking price is related to the amount they want in exchange for their home. It has emotional ties and can be influenced by their bank account and future plans. Sellers care about how much it cost them to upgrade the flooring to tile when they built the house 10 years ago. Buyers don't. Sellers care about netting enough out of their sale to cover their car loan and the down payment on their next home. Buyers don't.
A buyer sees asking price as a benchmark. They compare it to similar homes, calculating the difference in value of features between them and other options they may have. They even consider the length of time your home has been on the market as an indicator of the value other buyers saw in your home and allow it to influence the value they see as well.
The price a buyer is willing to pay is more closely related to the value they perceive than the price a seller is asking.

So, if your home is worth what a buyer is willing to pay for it, what's the point of an asking price?

Glad you asked. It's a marketing tool. Combined with proper market exposure and effective communication of value, asking price is one of many tools used to attract a buyer to purchase your home… for what it's worth.

And what's it worth? What someone is willing to pay for it. (aka "top dollar")
Rockstar Homes | Putting You in the Spotlight
Here is a pretty sweet little promo video Rockstar Homes has put together. I can speak from first hand experience, the team at Rockstar Homes goes big. Every time.

Have a great weekend. If you are looking for a REALTOR® to work with in Regina SK. I am sure the team at Rockstar Homes would love to hear from you. Contact them anytime!
Jackson Middleton
I am wearing a kilt right now. I have consumed coffee today. Family Man. Innovator. Follow me on Twitter @kiltedbroker | Formerly the Executive Editor of the First Foundation #OwnGrowProtect…
---