7 Reasons Why Life Insurance is Better Than Mortgage Insurance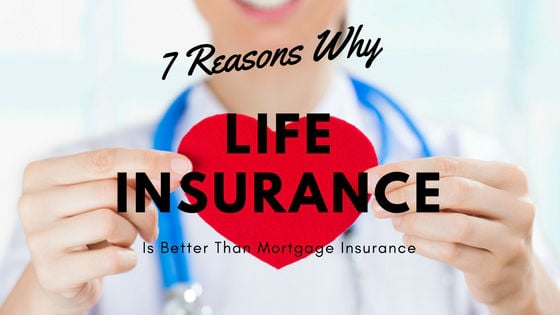 You should consider personal life insurance instead of mortgage life insurance. Here's why:
Choice – When you get your own personal life insurance you have unlimited choice in the amount of coverage, type of insurance & insurance company. Typical mortgage insurance allows 2 options - take it or leave it.

Price – In most scenarios, our clients find savings in individual policies when compared to the mortgage insurance (aka "creditor insurance") options they are presented with by mortgage lenders. Additional cost savings are available for good health & lifestyle as well as payment in annual premiums.

Level death benefit – If you set up your own insurance, you choose the coverage amount. The mortgage life insurance option simply covers the outstanding mortgage amount. This reduces your coverage each time you make a mortgage payment, however the premiums (payments) do not decrease.

Renewals – When you have your insurance linked to your mortgage, you are forced to deal with the insurance each time your mortgage renews. If you move your mortgage to a different lender at renewal you are going to need to apply for their insurance. If any health issues arise and you are not able to obtain new insurance you may be forced to keep the mortgage at the same lender just so that you don't lose the insurance coverage.

Underwriting – Many mortgage life insurance policies are not underwritten at application time. They are underwritten once a claim is submitted which can lead to delays and unfortunately, denied claims. Check out this Video from CBC's Marketplace to see why that sometimes happens.

Both parties can have coverage – For various reasons we often see situations where one of the home purchasers are not named on the mortgage. This prevents that person from being able to obtain mortgage insurance coverage. Your own personal insurance policy is available to provide that needed protection.

Guaranteed Premiums – Most mortgage insurance programs do not offer guaranteed premiums. Your own personal insurance policy will have guaranteed premiums.
These are just a few of the many reasons why you should consider having your own insurance coverage rather than relying on the mortgage lender to provide you with insurance. In our experience as a firm it is better to have some coverage rather than none - but there are definitely good, better, and best options out there. It's a great idea to consult with a licensed Life Insurance Broker to learn more and make an informed decision.
Contact us today to discuss your life insurance needs. Let's #protect you and your family.
Tyler Pfeiffer
Born and raised in Alberta, Tyler is married to Tammy and they have two daughters, Megan & Hallie. When you ask him what takes up most of his time... he…
---