Getting a Mortgage? Have You and Your Spouse Had "The Talk" ?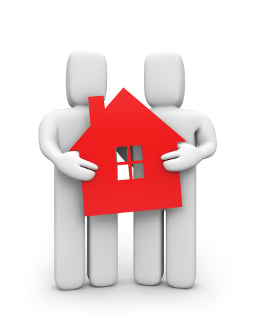 Next to the conversation where you tell your husband that your shih tzu ate the bathroom door, I think we can all agree that money is the next most stressful chat you can have with your spouse. Just me with the shih tzu thing? OK – then money makes number one for most everybody else.
From a professional stand point, I can tell you that if you don't have a talk about your personal history with money with your spouse in the privacy of your own home, you'll be having it in your mortgage brokers office and there's a word for that experience that comes to mind…awkward!! When you apply for a mortgage, your banker or broker will pull a credit report in order to assess your ability to borrow and to confirm your debts. Typically, in keeping with privacy law, if something unexpected shows up on the report, a good mortgage professional will ask to speak privately to the person with the unanticipated credit issue. However, when one partner is asked to leave the room for a moment, well, in the immortal words of Chandler Bing, "can open, worms everywhere."
In my experience, couples don't typically keep the big things like bankruptcies and foreclosures from one another, the surprises usually come in the form of collections and late payments. Because even a couple of late payments can have a negative impact on your credit score and your ability to obtain a mortgage, it's better to talk about past financial hiccups in advance. In fact, I would advise contacting Equifax and TransUnion, Canada's two major credit bureaus, and obtaining a personal credit report for both of you before applying for any kind of credit. It should be done yearly anyway, to stay on top of any errors or fraud. If anything unexpected shows up, be sure to call a mortgage broker to discuss it's impact on your future mortgage application and what steps can be taken to prepare for borrowing. You can also check out our past blog called 10 Ways To Build Your Credit for more information.
And be sure to have a look at Part 1 and Part 2 of Lesley Scorgie's blog post "Why couples need to have that money talk", on the Moneyville website. Scorgie is the bestselling author of Rich by Thirty: A Young Adult's Guide To Financial Success which focuses on giving young couples the tools they need to grow their net worth. Lesley is a local gal, hailing from Calgary and has appeared on Oprah, MTV and writes for the Calgary Herald and the Globe and Mail, among other publications. These posts have some great advice about having the dreaded "talk" and great advice about building your post "talk" future. Have a good look around Moneyville while you're there – very cool site.
I wish you the very best with your money talk – I'm off to buy a door.
Jennifer Rochford
As the company's first employee, Jennifer has been a Licensed Mortgage Associate since 2004, but her current role is not focused on mortgages. She is the resident blog writer and…
---