Getting Your Car Ready for Winter
I am sorry, I know I don't have to tell you this... but winter is here. Did you know that winter tires aren't the only thing you need to do to get your car or truck ready for winter? However they are a great place to start!
Snow Tires (You Need Them)
Although you may be sick of reading about snow tires and how important they are for your vehicle, if you still need convincing, check out this video from the Insurance Council of British Columbia.
Keep in mind that if you're going for a ski vacation in BC, you can be ticketed for not having winter tires on some roads. Now to the less obvious things you need to do to your vehicle to keep yourself and your car safe for winter driving.
Safety Kit and Warm Clothes
Winter weather doesn't just mean more of a chance that you'll get into an accident, but you also may be stuck somewhere for a significant period of time. You should have a safety kit on hand in your trunk or back of your truck that includes road flares, a flashlight, a blanket, batteries, and a small tool kit. This premium auto safety kit from Canadian Tire contains everything you need and more for only $60. You'll also want to keep some durable snacks that won't be affected by freezing like granola bars in the vehicle, and make sure you have a bottle of water with you on your way to and from work.
You'll also want to make sure you put on warm clothes every morning. Sure, that leather jacket looks fashion-forward at the office, but it will be useless to you if you're stuck behind an accident for an hour and need to turn off the gas periodically to conserve fuel. If you don't like wearing bulky clothes while driving, sock an old winter jacket in your trunk or backseat along with a scarf and a spare pair of mittens or gloves just in case.
You might just consider packing an ugly sweater for fun!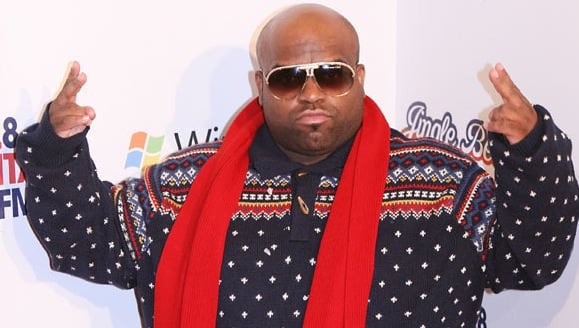 On second thought... maybe not.
Check Fluids Regularly
At any time of year, oil changes are mandatory, but you'll want to keep an eye on other fluids as well. Carrying a spare jug of cold weather windshield washing fluid in your trunk is safe, and could be vital if you run out in the middle of a snowstorm. Give all of your fluids, including transmission and brake fluids, a thorough checkup before winter driving and a monthly check during the winter. Add a reminder to Google Calendar or whatever calendar application you use to remind yourself to check your vehicle's fluids.
It is a great idea to keep your fuel tank topped up in the winter just in case you run into trouble on the roads.
Also, do not store gas in your trunk as it is dangerous to do so, even if it is in an enclosed container.
Get Your Vehicle Inspected Pre-Winter
Some dealerships offer free multi-point inspections for your vehicle. Take advantage of this to see if there are any maintenance items that need attention before your vehicle gets brutalized by the elements. If you don't have a free service available, a trusted mechanic will usually run this inspection for a nominal fee. Fix any recommended service items as soon as you can.
Make Sure Insurance Info is Up To Date
Contact your broker (hopefully it's us!) to make sure phone numbers, addresses and everything else are up to date on your policy. This could speed things up in the event of a claim if the wrong information is on there. You'll also want to make sure they know how you're using the vehicle, as this can also affect a claim. For example, if you are using what was your wife's car to get to work, they'll need to know about this change in use to make sure you've got the right coverage for that vehicle.
For more tips on how to prepare your car for winter, check out this article from the Canadian Automobile Association.
Angela West
Founded Working Web Copy in 1996, specialize in financial services writing. With First Foundation since 2010. In my spare time, you will find me in a kayak or watching episodes…
---