How to Prevent Winter Water Damage to Your Home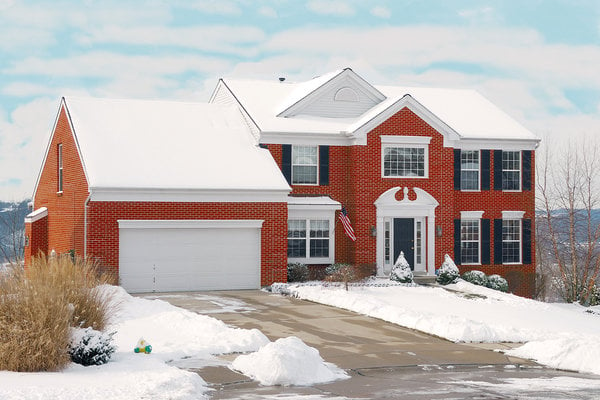 Editor's note: This article was originally published on November 7, 2013 and was updated on October 13, 2015.

Water damage is the top claim item that insurance companies see, and in the winter, its root cause is usually pipes that burst from freezing. Make protecting your plumbing and appliances one of the maintenance items on your fall "tucking away for winter" list to avoid water damage in your home.
Check That Pipes are Properly Insulated
Some plumbing pipes are located in areas of the home that are prone to cooling down quickly if the heat goes off, such as a basement or close to an outside wall. Cover these pipes with inexpensive pipe insulation that you can get from the local hardware store. Even if you are in an urban area with reliable power, you need to prepare for a situation where your heat may be off for a day or two. If you can manage it, consider insulating all of your plumbing pipes for an added layer of security.
Although there is nothing really attractive about insulating pipes, it can save you money… and saving money is attractive!
If some of your plumbing is located under the house or in an unheated location, they're probably already insulated. Check that the insulation hasn't worn away or has been damaged by wildlife before winter, and consider installing self-regulated heat cable or heat tracing on outdoor piping for better protection.
Keep Your Home Heated
If you're going away on vacation, don't turn off the heat, and don't turn it down lower than 10 or 12 degrees Celsius. Unless you have a very fancy thermostat, the temperature may get lower in outlying areas of your house not in the vicinity of the thermostat. It's worth it to pay a bit more on your heating bill than deal with burst pipes.

You may also want to consider purchasing an alarm system that alerts you to temperature variances in your home, or the NEST thermostat which has the added bonus of being extremely cool. You can check up on most alarm systems or the NEST remotely from your smartphone, and even turn the heat up or down remotely. If you're concerned about specific areas of your home, the alarm system may be a better choice as you can purchase temperature sensors that are installed directly in areas you choose, such as a poorly heated crawlspace or beside your furnace.
Fixing problems in the winter is much harder than preventing them in the fall.
Check Pipes From Appliances
Make sure connections are tight on the water pipes leading to and from your washing machine, dishwasher, and any other appliances that use large volumes of water. Both appliances can vibrate when in use, which can easily shake loose seals and connections. Also be sure to check your hot water heater and dehumidifier if you have one and perform any maintenance items that the manufacturer recommends.
Check The Roof and Skylights
Have a look at the shingles on your roof to see if any are in need of replacement or repair. If they're curling up at the edges, or you can easily see a bad patch in the roof, you may want to get a professional roofer in or, if you're handy, replace them yourself. Make sure skylights and windows that may be covered in snow are sealed tight so water from melting snow can't drip into your home.

If you're too busy to perform any of these maintenance checks, consider hiring a reputable handyman or contractor to do it for you…

Is your home insurance up for renewal this fall? If it is, contact us to talk home insurance and see how we can help you get an insurance policy in place that comprehensively covers water damage and all of the other issues that Old Man Winter tends to blow in.
Scott Marit
Location, location, location – we took this age old real estate saying to heart when we situated Scott Marit, Personal Insurance Account Executive directly in house at the First Foundation…
---