Street Capital Small Rental Program | [Product Details]
Street Capital Releases New Small Rental Program
There is no secret that over the last 4 years the Canadian government has done it's fair share to make it more difficult to qualify for a mortgage in Canada. Whether you like it or not, agree with the reasons or not, it is certainly nice to see a move in the other direction, when lenders see a need and expand their product lines to offer Canadians more choices in the mortgage market!

And choice is exactly what Street Capital offers with their new Small Rental Program.

Now don't get me wrong, this program is nothing like what we saw pre-2010 with rental properties being financed at 100% Loan to Value with 40 year amortizations, but as far as financing a rental property in 2014, this program shows some real balance.

I attended a webinar this afternoon hosted by Paul Grewal, president of Street Capital where he shared a lot of the product details. Here are some of the highlights that I believe are worth mentioning, a sweet generic stock photo of people enjoying their rental property (taken from the webinar) and an 8x10 color glossy product sheet. Enjoy!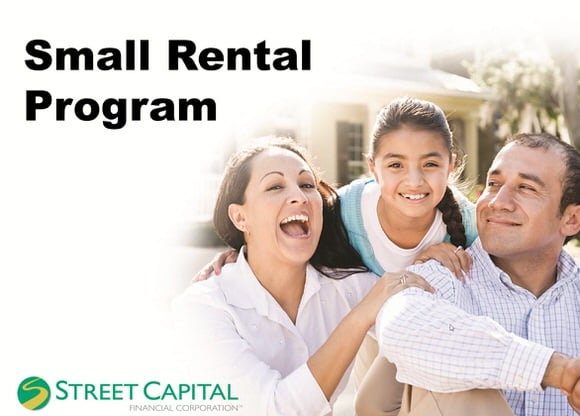 Product Overview
Let me start by saying I think the word "Small" is very important to note when talking about this rental program. Under Street Capital guidelines, the maximum number of properties an individual borrower can have in their portfolio is up to four. Yep, that is four, a primary residence and three other properties. This program is not for the commercial landlord who wants to own several hundred properties and become a Canadian Donald Trump. This is a very low risk program that allows borrowers to finance up to 3 rental properties.

One of the major benefits that I can see with the Street Capital Small Rental Program compared to other lenders is that they are coming in at best rates. Since the changes took effect in 2010, most companies offering mortgage financing on rental properties have been doing so with an increase to the rate by adding a rate premium surcharge of up to 0.35%. Although Street Capital is only offering the rental program on the 5 year fixed term, the fact that they are doing it at their best rates is VERY attractive.

A borrower qualification to note is the minimum documented verification of a net worth of $100,000. This can be in form of equity in a primary residence, equity in other rental properties or funds held in the bank or investments such as RRSPs or TFSAs. The $100k is to be above and beyond the downpayment being provided (from the borrower's own resources) for the purchase of the rental property. By adding the extra level of qualification in assessing the borrower's net worth, Street Capital is making sure they get exactly the type of borrowers they want.
Product Detail Highlights
Purchase, Refinance (1-4 Units) Maximum 4 Units in Portfolio
Best 5 year Fixed Rate (Currently 3.09%)
Financing for properties in Major Urban Centers up to $1M
Minimum Borrower Net Worth of $100,000.
Excellent Credit and Downpayment from Own Resources
Charge against title is NOT a collateral charge, rather a first mortgage

Jackson Middleton
I am wearing a kilt right now. I have consumed coffee today. Family Man. Innovator. Follow me on Twitter @kiltedbroker | Formerly the Executive Editor of the First Foundation #OwnGrowProtect…
---