Top Free Canadian Personal Finance Apps [List]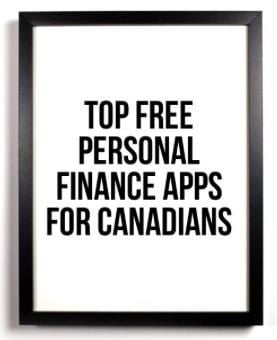 If you're trying to save for a mortgage or just living your day-to-day life, using any one of the excellent personal finance apps available for your smartphone or tablet can demystify your spending and help you budget better. We took a look at the highest-rated free apps in the Finance category and test-drove them to make sure they work well for Canadians.
While many of these apps require you to hook up your bank accounts and other personal information to them, they often have the option to be password-protected. If you choose to install any of them on your smartphone or tablet, make sure you're using the "lock" feature of your smartphone and tablet and make yourself enter a code every time you pick it up. The slight inconvenience more than makes up for itself by protecting you against potential identity theft.
Mint.com
Arguably the best-known of the personal finance apps, Mint.com lets you set monthly budgets for different categories and will notify you when you're going over that budget. It even helpfully suggests credit cards with a lower interest rate than the ones you are using, and has tons of other features. Available as both an app and a site that you can log into from your computer, Mint.com gives you an excellent top-down view of your finances that you can use to make some real changes in things like how often you eat at a restaurant or how many lattes you're buying. Available for all platforms.
Shop Smarter with Cardstar
How many times have you missed out on collecting reward miles or store loyalty programs because your wallet was in the car or you didn't feel like digging for a card?
"CardStar eliminates wallet and keychain overload by consolidating your membership and rewards cards with a single free app"
With smartphones becoming omnipresent, many merchants who offer rewards programs are turning to apps to help you manage your reward miles and store loyalty cards. Air Miles offers an app you can use during checkout instead of your physical card, as do many other store loyalty card providers. Check each card in your wallet to see if you can do without it just by downloading its associated app. Cardstar offers you a convenient app to store all of your loyalty cards in one place, and it includes Shoppers Drug Mart, Sobeys, and other Canadian stores. Cardstar will help you keep your smartphone and your wallet uncluttered. Most apps, including Cardstar, are available for all platforms.
Here is a list of some other apps that we have found to be very helpful.
Let us know if you have an app that you just can't live without, we would love to add it to the list!
Jackson Middleton
I am wearing a kilt right now. I have consumed coffee today. Family Man. Innovator. Follow me on Twitter @kiltedbroker | Formerly the Executive Editor of the First Foundation #OwnGrowProtect…
---