What Every Startup Needs to Know About Business Insurance
You're starting your own business. Congratulations! Chances are you've already partnered with the right people and have gotten an excellent team together. But what kind of insurance should your business have? I talked our own Kathy Anders, a Commercial Lines Specialist, to get the breakdown of what your business needs.
Deal With an Experienced Commercial Broker
The most important thing is to make sure you are dealing with an insurance broker familiar with commercial lines. Only experience can teach you the hard lessons in insurance, such as when to make a claim and when not to make a claim. An experienced commercial insurance broker will know all the ins and outs and will not only get you the right policy, but will be a lifesaver if you need to make a claim.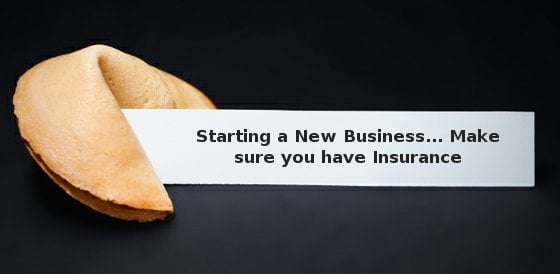 A broker takes the time to understand your business and tells you what you need. Having this personal relationship is key. They want to help you with your business and grow with you. It's important that the insurance broker knows about your current business and your plans for expansion, so they can check in to see if you need extra coverage down the road.
Kathy took over an account from another broker that would have been considered a small business when it started. When she started talking to the client about the business, she found that it was operating at a much larger scale than what it had insurance for. If she hadn't taken that initiative, things could have gone badly for the company if they had to put in a claim as some of their activities weren't covered. She updated everything and made sure it got the coverage it needed. As an example, a dog groomer could grow their business into a kennel, which would require a completely different set of coverage than the dog groomer would have initially had.
Packages Keep Premiums Down and Coverage Up
Insurers have developed package policies that are perfect for all types of businesses. Commercial insurance is a very competitive marketplace, and insurers are one-upping each other to try and have the best package at the most cost-effective price. This is great news for a cost-conscious small business that's just starting up. Many packages include great throw-ins that insurers add to sweeten the deal.
Home-Based Business
A home-based business can often be covered by your home insurance but there are some things that your home insurance may not cover. Product, stock or equipment that you use specifically for your business needs to be insured separately. It also may not cover liability for clients coming to your home. It's important to talk to your insurance broker and describe your unique situation so they can get you the appropriate coverage.
For more on insurance and home-based businesses, check out Kathy's helpful article on the Entrepreneur Mom Now Edmonton website.
Small Contractor and Service Business
As with any business insurance, what you need is dependent on the services you offer. A contractor doing home renovations or repairs has completely different risks than a home cleaning service. A contractor could potentially do property damage to the house while he's installing cabinets, maybe by dropping something on brand new hardwood floors. His insurance will have to pay for any damage he caused to that floor. A cleaning service may unintentionally use the wrong cleaning product and damage the finish on the floor but generally, the risks for that type of business are much lower.
Most service contractors have tools and equipment they need to insure. These should be put on a floater because the coverage follows where the equipment goes. Most other coverage is restricted to the address on the policy so the contractor's generator that gets damaged on a job site may not be covered. A floater tends to be more expensive since the risk is higher. Coverage restricted to a locked building reduces the exposure, which reduces the premium.
"I reccomend a minimum two million dollar limit for small business liability Insurance". Kathy Anders
Both businesses have liability exposures. The minimum amount Kathy recommends is a two million dollar limit for liability. The basic liability wording is the same for the small contractor and a person doing house cleaning. There are additional coverages a contractor may want to add because there is more risk involved; you should customize property and liability coverage to the individual business.
Small Retail Business
In retail the customer comes to the client. Here you have the property exposure of owning, leasing, or managing space. You have liability exposure for occupying the property, so slip & falls, shelves collapsing and hurting a customer are all considerations. Depending on what the product is being sold you may have a product exposure as well.
Many businesses are sourcing cheaper product offshore. Your insurance costs may vary depending on the type of product you sell and country it's made in. If there's an issue with the product, the consumer will look to you for compensation and it will be your insurance company that will get involved. Ideally, your insurance company should be able to collect any money they paid out from the manufacturer. This is referred to as "subrogation". Retailers will have an easier time with insurance if they purchase their products made in more legally accessible market such as Canada or the United States. This should be something you consider if you're sourcing products to sell for your new business.
If your business fits a package policy that would likely be the best way to go. If your business is a hair salon, for example, you can purchase an insurance package that will give you the best value for your dollar and provide you with additional coverage that would cost you more if you had to buy them separately. A broker knows which insurers sell the best packages and will get you the best deal.
An Insurance Broker is a Startups Best Friend
If there is no proven track record for your business, you may need to jump through some extra hoops to get business insurance. Experience in the industry that you're starting your business in makes you more attractive to an insurer and may reduce your premium.
It's the broker's job to be the spokesperson for the business to the insurance company so it's important that they know all the good things you're doing to protect your assets and make your business successful. Being passionate about their clients helps the broker keep the premium competitive and ensures the best coverage is in place. It's also their job to be your advocate in the event of a claim and help you through the paperwork that needs to be done. They want you to be focused on keeping your business successful.
The broker is the salesperson for the business to the insurance company, and it's easier to sell your business if you have experience. Kathy has been quite passionate about defending business people to insurance companies. She has even been in the position where she got a business coverage because it was her that was working with the client, since the underwriters know how she does business.
You need an advocate when you start your business, with a claim and with anything to do with your insurance. You don't have time to deal with claim forms and other paperwork yourself; you've got a business to run.
Hire a Professional
Hire a professional to do the job. Just like you need a Charted Accountant to help you keep your tax bill as low as possible, you need an insurance broker to keep your business protected for the lowest price possible. Play to your strengths and let your team use theirs to benefit your business.
Angela West
Founded Working Web Copy in 1996, specialize in financial services writing. With First Foundation since 2010. In my spare time, you will find me in a kayak or watching episodes…
---