$100 Gift Card Rescued From Maternity Pants | 52 Week Money Challenge
Have you seen this gift card?
If you have ever received a gift card before, you have probably seen the friendly reminders that you should "treat this card like cash", some gift cards have actually made the jump to calling themselves "cash cards". Call me crazy, but I still like dealing with cash instead of being pigeon holed into shopping at one particular store. Regardless,

In the process of organizing our basement (and lives), Steph and I found $230 worth of gift cards we had forgotten about, lost, or plain didn't even know we had!

Unlike me, Stephanie loves getting gift cards, they represent a break from normal spending and feel more like a treat for her. She genuinely likes to plan what she will spend her cards and make it a special event!

So despite my feelings about them, for Christmas of 2012 I got Stephanie two $100 gift cards. One from Soma Spa (for couples pedicures) and one from Carter's OshKosh (if that is a real thing) to buy Hamish some nice baby clothes. I remember this vividly because a couple days after Christmas, Steph was frantically searching for the OshKosh gift card… she swears she put it in her wallet, but it was gone. Vanished. We searched the house high and low but it was no where to be found. I will admit that I was a little miffed, kinda felt like a real waste of money… but oh well, money grows on trees right?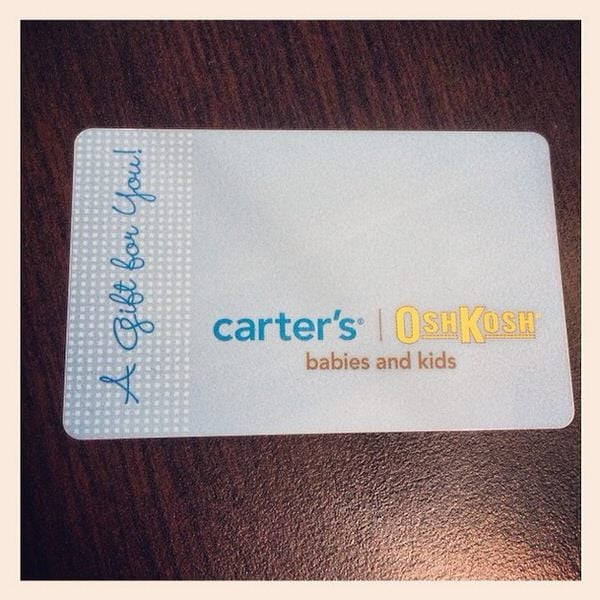 Fast forward to last week… yes, that is right , MORE THAN A YEAR LATER (all caps indicate yelling), a friend is over looking through our kids clothes and finds a pair of maternity pants tucked in with the 2 yr old girl dresses. Apparently they got added to a box after sometime Hamish was born. As Steph is currently pregnant and comfy pants are always a good idea for pregnant women, she put them on only to reach into the pocket to pull out the $100 OshKosh gift card.
Did you know that gift cards don't expire in Canada? This certainly works out in our favour!
Also while going through some of the boxes from my old Highland Mortgage Partners office, we found the following:
$50 in Brewsters gift cards (from a REALTOR®)
$30 in iTunes gift cards (unopened card from Christmas 2011)
$25 in Cineplex Gift Cards (no idea where these came from)
$10 Starbucks Gift Card (I might have even bought this)
$5 x 3 Tim Hortons Gift Cards (A gift from a non-coffee drinker obviously)

Quite the unexpected benefit of basement organization!
Did you know that close to 20% of Gift Cards in Canada are never redeemed? I wonder how many of them have been tucked away in maternity pants for years at a time!
Incorporate Gift Cards Into Spending
So how does this apply to our money challenge? Well… we have decided rather than use these cards "in addition" to our regular budget, we will incorporate them into our regular spending and transfer the corresponding funds into our savings account for the challenge.

If you receive a gift card, use it as an opportunity to deposit the face amount into your savings and use the gift card to replace your regular spending!

For example, If you budget $300 a month for eating out, and you get a $100 Earls gift card for your birthday, spend $200 cash, $100 Gift card and save the extra $100 instead of spending it! Easy. As. That.

So for week 8, $230 worth of recovered gift cards incorporated into our budget funded week 23 of our challenge.
Week 7 Update
So last week we talked about selling the kids clothes, at that time we had already made $100, well Steph was able to make another $115 for a grand total of $215. As we still have 4 tubs of clothes, we will continue selling them online or try and move them at a garage sale this summer!

Now, in week 2 of the challenge, we talked about opening an ING direct account and how the orange code worked. Well, since then, we have had 3 people use our orange code and we have made another $75. Thanks everyone, we really appreciate the support!

$290 made between selling kids clothes and our ING direct Orange code funded week 29 of our challenge.
8 Weeks into our 52 Week Money Challenge and we have managed to save $1,895.00 << Added the zeros to make the number look bigger.
Jackson Middleton
I am wearing a kilt right now. I have consumed coffee today. Family Man. Innovator. Follow me on Twitter @kiltedbroker | Formerly the Executive Editor of the First Foundation #OwnGrowProtect…
---