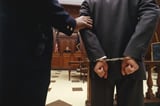 The Toronto Star has a very interesting article about Title Fraud that should scare any Canadian home owner. One way to protect yourself against such fraud is to purchase title insurance when you get a home mortgage. If you have any questions about Title Insurance feel free to contact us and we can help to explain it to you.
The article can be found here.
Complete a Free Mortgage Quote Application or learn more about our Mortgage Broker Online Products.
First Foundation
OWN. GROW. PROTECT. First Foundation is the one-stop-shop for financially responsible Canadians looking to get great advice and save money. Whether arranging financing for a property you OWN, or looking…
---