Capital Pointe Project in Regina Saskatchewan
Capital Pointe Breaks Ground
Downtown frequenters in Regina will be experiencing some pretty extreme traffic delays for a while, much to our chagrin. Albert St. and Victoria Ave. (two of the busiest streets in the city, bar none) have been reduced to one-lane traffic as construction crews begin to break ground on the mythical Capital Point. The development (which will include Hilton flagged hotel and condo complex) will stand a whopping 26 storeys high upon completion, making it the tallest building in Saskatchewan.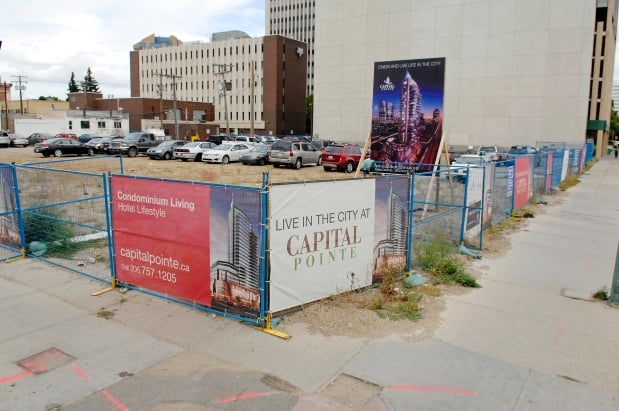 Capital Pointe Troubled History
However the lead up to this milestone has not been sunshine and roses. The $100M project has been in the works since the 2011 demolition of the Plains Hotel, which previously occupied the space at Albert and Victoria. Since then, the site has laid mostly dormant while the developers have attempted to work out the various (and considerable) kinks in the project. Not the least of these has been the developers themselves. The original Capital Pointe project was to be executed by Regina's own Westgate Development. Then, largely due to a lack of investment capital for the development, Toronto-based Brightstar Corp. took the lead on Capital Pointe in partnership with Westgate. Just recently the project has changed hands yet again, this time to the relatively new Augustine Group based out of Niagara Falls, Ontario.
Regina City Council
These financial delays have further led to bureaucratic delays. Since the project's original development permit (which only lasts two years) was approved by Regina City Council when development was suppose to start in 2010, Capital Pointe's permit actually ran out last summer forcing the developers to go through the permit approval process a second time. Though ground has now at last been broken at the Capital Pointe site, it isn't at the hands of development construction crews, but rather of Saskpower. This is because the space at Albert and Victoria sits atop an electrical duct bank which will need to be removed and rerouted to another area of the downtown.
Saskpower predicts moving the electrical duct bank will take approximately another five months.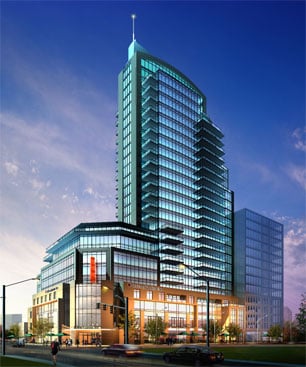 Still, amidst the many delays there is excitement growing among investors, developers, and Regina residence alike at the prospect of this project taking shape at last. Just over 40% of the condo spaces have been pre-sold, and Augustine Group vice-president of sales and marketing Brian Tilley says he is looking forward to filling the rest of those slots in the next five months.

The Augustine Group certainly has their work cut out for them, it will be no small feat to transform the empty lot pictured above into the building pictured here!
---
For more, check out the Leader Post's interactive timeline of the Capital Pointe project, or follow Capital Pointe on Twitter @Capital_Pointe.
Conrad Hewitt
Conrad Hewitt is currently a student in the Paul J. Hill School of Business at the University of Regina. Conrad joins First Foundation as a Research Assistant working with Jackson…
---