CMHC and CAAMP Mortgage Survey Results - Comparison
CMHC Mortgage Survey Results

CAAMP Mortgage Survey Results

63% of mortgage consumers cited interest rate as the main reason to switch lenders
The main reason for renewing early was to avoid a perceived increase in rates (55%)
17% of mortgage broker clients changed brokers during the process - 35% of those for a better rate

Mortgage Type

Loan to Value / Equity

Amortization Period

Down Payment

Pre-Payments

Broker Market Share

Trending upward
Repeat borrowers used a mortgage broker 42% of the time in 2015, up from 32% in 2012
First time buyers used a broker 55% of time in 2015 - up from 48% in 2012)
Refinancers used a broker 33% of the time in 2015
Renewers used a mortgage broker 21% of the time

Direct Lender / Bank Market Share

Trending downward
47% of first-time buyers arranged mortgage with their current primary banking institution
Among clients switching lenders, 60% used the services of a mortgage broker

Customer Satisfaction

79% of mortgage broker and bank clients were satisfied with their lender experience

47% of Broker clients "Totally Agree"
42% of lender clients "totally agree"

86% of renewers stayed with existing lender
Lender loyalty among repeat buyers reached 77%
50% of broker clients and 34% of lender clients got a follow-up post-closing

Increases likelihood for repeat business by nearly 53%

Renewals

71% contacted by their lender prior to renewal date
60% renewed early
55% renewed early to avoid rate increase
49% negotiated different terms than in the renewal offer
Advice at renewal created a 66% increase in likelihood of repeat business and higher client satisfaction
49% chose higher than minimum payments at renewal
32% made lump sum payments at renewal
64% have contributed to an RRSP or TFSA

Additional Products Offered

40% of mortgage pros offered other financial products

Rates

Average rate for home buyers since 2013 is 3.00%
Most homebuyers expect rates to increase modestly over the next year and more over the next five
Perception amongst buyers is that low mortgage rates have encouraged too many buyers

Mortgage Type

Fixed rates chosen 72% of the time
21% Variable / Adjustable
7% combination fixed / variable
67% are 5 year terms

Loan to Value / Equity

Equity remains the major source of down payment funds for repeat buyers
Buyers financed 67% of their purchase price, on average, with mortgages and HELOCs.

81% for first-time buyers
67% for second time buyers
50% for those who have purchased more than two homes

Home buyers typically finance 76% of the amount they were pre-approved for

First-time buyers were at 81% of pre-approved amount, on average

Excluding home buyers that have no mortgage or LOC, the average LTV is 78%.

85% for first-timers
67% for subsequent buyers

32% of first-time home buyers said that building equity was a factor in their decision to buy.

Amortization Period

Average amortization period is 22.1 years.
First-time buyers average 22.7 years.
On average borrowers expect to pay mortgage off five years faster than amortizatino period
Only 14% of buyers have an amortization period longer than 25 years

Down Payment

Average down payment was $119,000 and approximately 33% of the home value.
Total down payments were $74 billion out of total purchase cost of $219 billion.
First-time buyers averaged $67,000 down and 21% of purchase price.
Increasing the minimum down payment from 5% to 10% would have resulted in a six per-cent reduction in buyers - about 35,000 - at minimum and a further 80,000 buyers who probably would have exited the market.
The majority of down payments are coming from personal savings - $42 billion.
Gifts from parents and family accounted for 7% of down payments, but 18% for first-time buyers
RRSP withdrawals only account for 3% of down payments, or 10% for first-time buyers.

Pre-Payments

No information / see Equity section above

Broker Market Share

61% of 1st time buyers and 56% of all buyers consulted a mortgage broker
39% of first-time buyers and 34% of all borrowers obtained a mortgage from a mortgage broker

Bank Market Share

75% of first-time buyers and 76% of all buyers consluted a Canadian bank
26% and 23% consulted a credit union
47% of first-time buyers and 56% of all buyers chose a mortgage from a Canadian bank
10% of all buyers chose a mortgage from a credit union

Customer Satisfaction

93% of first-time buyers and 94% of second-time buyers rated real estate in Canada as a good long-term investment
38% of all buyers regretted taking on the size of mortgage they did
94% of all buyers would classify mortgages as good debt
Summary Coments
Both the CMHC and CAAMP mortgage consumer surveys shed a lot of interesting light on the Canadian mortgage market. While they're not a true apples-to-apples comparison, there are few areas where the information crosses over. We get an insight into the inexact science of consumer surveys, for example, when we look at mortgage broker and bank market share numbers, which seem to vary wildly between the two surveys. The methods used to collect the data, the questions asked, and the context in which they were asked are all important and could have a material statistical impact on the outcomes.
In a way these surveys surprised me because the CMHC mortgage consumer survey seems to focus more on customer service expectations, satisfaction levels, and consumer behaviour, whereas the CAAMP survey focuses more on debunking some of the common myths about consumer debt levels, average loan-to-value numbers, down payments, and equity.
Both surveys are useful tools and for mortgage brokers like us they can serve as a useful reminder of the expectations of our clients, what they're interested in, and how best to take care of them to ensure they're more than satisfied.
If you have any questions about the information presented please let us know in the comments below or contact one of our mortgage brokers for more information.
Infographics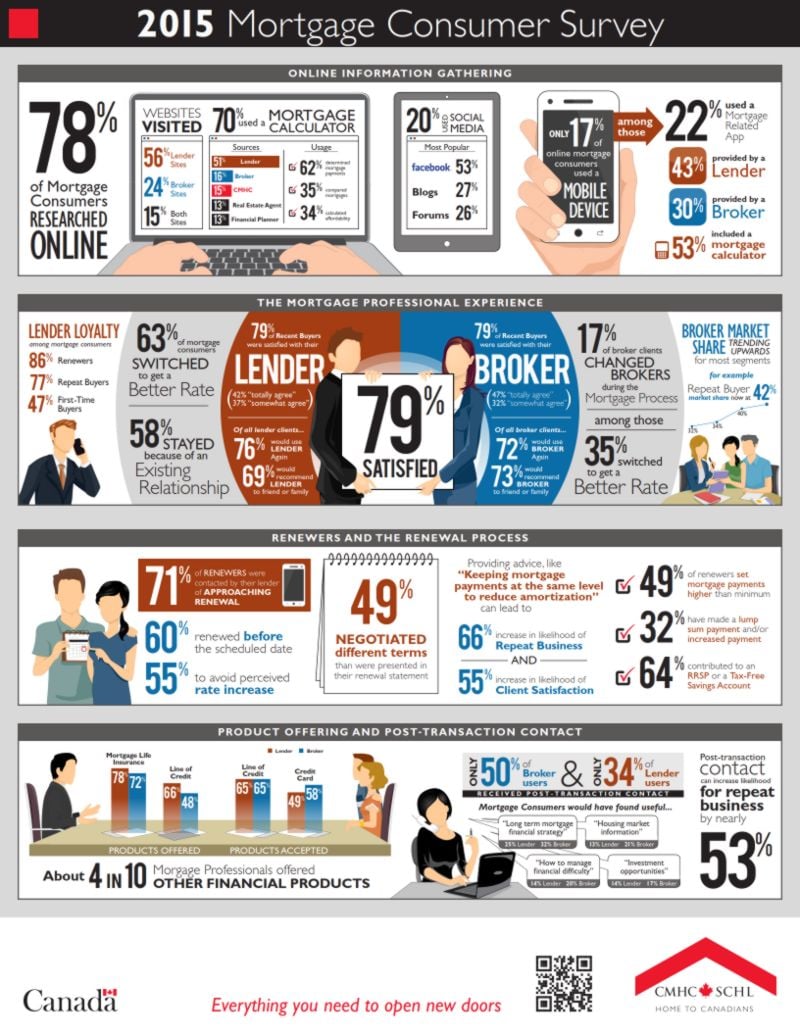 Gordon McCallum
President of First Foundation Residential Mortgages and First Foundation Insurance. Live in Edmonton but cheer for the Riders. I have lots of kids. Follow me on Twitter @gordmccallum
---