Edmonton's April Real Estate Market News Made My Eyes Disintegrate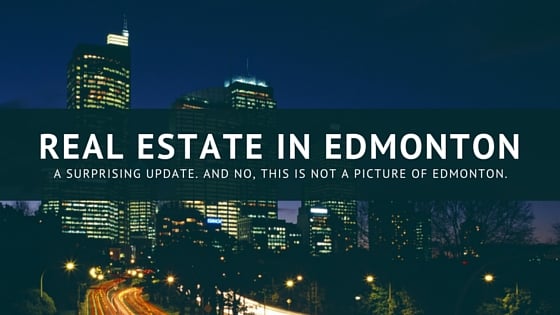 Everyone loves a good headline. Am I right?
IANAR. Loosely translated, that means "I am not a Realtor". However, IATSOAR, or for you English speakers out there, I am the son of a Realtor...and I know lots of them in this fine city of Edmonton (and surrounding area, aka "The Capital Region"). For that reason alone I feel semi-qualified to have an opinion on the subject. Negative comments and death threats can be left in the comments below.
Since the Oilers are not in the playoffs this year (again) I decided to watch something more interesting: the local Edmonton real estate market. With all of the doom and gloom in the Alberta economy - some of which is definitely warranted - I wanted to see how our old friend Real Estate (tm) was doing. I really expected to see price drops of 800%, approximately a million listings on the market, and interest rate spikes that make the early eighties look like a walk in the park. Not to mention job losses. I expected everyone to lose their jobs. Except the government workers...but I digress.
Thankfully, I was pleasantly surprised. This is what I learned:
People still need a place to live and renting at the moment is not really much cheaper, if any, than owning. In fact, when you factor in the fact that the majority of your typical mortgage payment goes to principal these days, owning makes a ton of sense. If you don't believe me get in touch and we'll play with amortization tables until you're convinced.
There is more inventory on the market...which is great news for home buyers because they finally have something to choose from. No more undue pressure to make a crazy offer with no conditions on a Sunday night at 10pm. You have time. Go find the right place for you!
Edmonton real estate prices are actually rising...slightly. Or going down slightly. Depends on who you ask. So here's a couple of links so you can check yourself: Calgary Herald: EREB says Edmonton homes have median price of $400,000 and Canada Newswire- Edmonton Home Prices Show Steady Growth
Edmonton has seen an increase in employment numbers. More jobz! Edmonton adds 3,500 new jobs in March and Alberta Creates 19,000 New Jobs. Wow!
Mortgage Rates in Edmonton are steady, crazy low, and they make housing affordability in Edmonton as good as it's been over the past twenty years, according to the RBC Affordability Study.
"Housing affordability (in Edmonton) has been mostly stable since 2012 but eroded slightly last year, primarily due to a weakening in household income. RBC's aggregate measure rose slightly by 0.3 percentage points in the fourth quarter of 2015 to 31.4%. This level remains below the long-term average of 33.9%, thereby suggesting little in the way of undue affordability-related stress."
The great news is that, as a city, we're doing ok. Not as well as we'd like. Not as well as we're used to...but life moves on. We're resilient. We're Albertan. We need places to live. Owning still makes a ton of sense and there are lots of options to choose from out there. Of course, if you'd like to talk to us about financing or insuring that home you need, we'd be honoured. We're always happy to refer you to great Realtors and lawyers who will do a great job for you too.
Until next time!
Gordon McCallum
President of First Foundation Residential Mortgages and First Foundation Insurance. Live in Edmonton but cheer for the Riders. I have lots of kids. Follow me on Twitter @gordmccallum
---