How My Family Will Save $13,780 in 2014
The Middleton Family 52 Week Money Challenge 2014
So over the last couple of months, my wife Stephanie and I have realized something about how we live our lives... we are impulsive and have no concept delayed gratification. There. I said it.

Maybe it's just how we were made, maybe it has been cultivated over years of practice or maybe it is just plain laziness (probably a combination of all 3). Regardless, the fact is, when we want something, we get it. Period. Unfortunately that has often times meant going into debt to satisfy our immediate (unrealistic) desires.

They say the joy is in the journey, I am pretty sure they are lying, but we have decided to see for ourselves!

Steph and I were looking for an outlet to build some discipline in our lives when I came across the 52 week money challenge (included below). As Steph and I are both "go big or go home" type people, we decided to take the challenge times 10.

Our goal in 2014 is to blog through our 52 week journey as we save $13,780.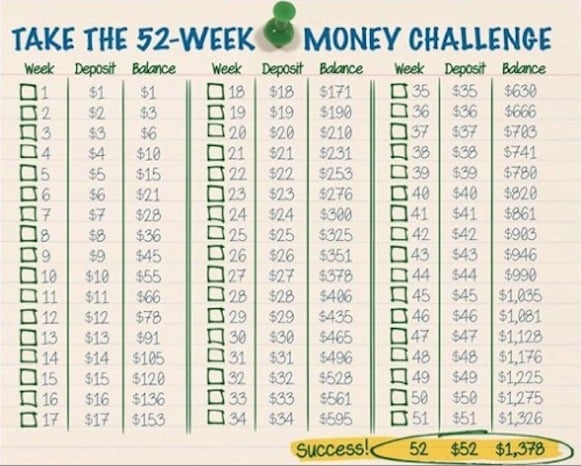 Ground Rules for our Money Challenge
Obviously starting this challenge in the new year would make January and February relatively mindless while November and December would prove nearly impossible. We will be blogging through our 52 week journey with 52 ways we have saved the money, just not in chronological order. Rather we will let the amount we were able to save each week dictate which weekly box we check off. This way we are not limited to how much we are able to save each week, rather we can try to accelerate our efforts early on so we aren't feeling a really heavy burden later in the year!

We will have 2 bank accounts, the first account will be a holding account where all the money we save goes into, while the second account will receive regular deposits as per the 52 week savings schedule.

So for example, if in week 1 we sell something in our basement on eBay and make $280, we will deposit the full $280 into the holding account, but as per the schedule deposit $10 into the savings account.
Objectives for our Money Challenge
Our primary goal is to work together as a family and develop an appreciation for saving and work towards a common goal. We want this to be fun and used as an opportunity to teach our kids about money.

Here is a checklist of what we hope to accomplish in 2014.
Find 52 unique ways to save money throughout the year.
Save $13780 in a savings account to be used for a goal in 2015.
Figure out what we want to spend our money on in 2015.
Include the entire family, making sure everyone contributes.
Share regular updates of how we are doing with bank statements.
Be creative with how we save our money.
Learn what it is like to work towards a goal over a long period of time.
Incorporate delayed gratification into our daily lives.


We know this isn't going to be a walk in the park, however breaking the habit of living an undisciplined life requires some serious intervention! We can't change if we don't try!
If you feel inspired to take the challenge, let us know! If you have already made this change in your life, please feel free to share some of your tips throughout the year, we will need all the help we can get!
Jackson Middleton
I am wearing a kilt right now. I have consumed coffee today. Family Man. Innovator. Follow me on Twitter @kiltedbroker | Formerly the Executive Editor of the First Foundation #OwnGrowProtect…
---