This Just In — Owning Less Could Make You Happier!
Happiness has flat lined over the last 50 years.
Listen to Hill's compelling argument in this Ted Talk video where we explains the benefits of "living little" and read on to learn about his 3 approaches for practicing the "the joy of less".
Can Less Really Equal More?
Is there a chance that less stuff could actually equal more freedom? How about more time? Less stress? A smaller carbon footprint?

Graham Hill thinks so! Here are his 3 approaches to "living little":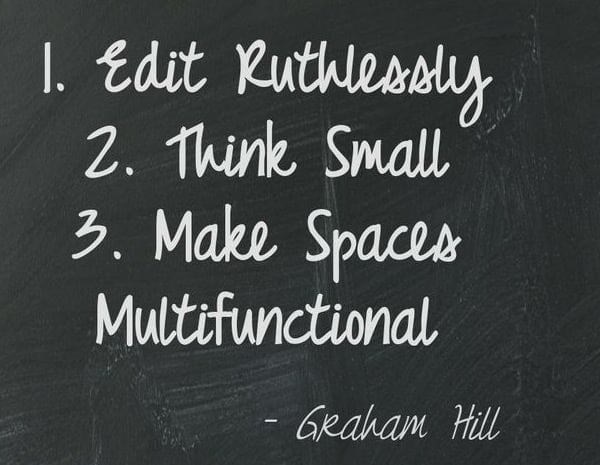 Image created on (pinstamatic.com)
Edit Ruthlessly: Think about what makes you happy. Does your stuff make you happy or is it the people in your life? Are you spending more time constantly tidying all of the little things rather than spending that time with your family and friends? If so, then try to curb the volume of incoming stuff; keep a tight rein on what actually comes into your house and you'll naturally find more time for people and not things!
Think Small: Think space efficiency — the 80/20 principle. We only use 20% of our stuff, 80% of the time, so we need to make that 20% count. Think about ways to nest items such as stacking chairs, stacking measuring cups or beds with storage drawers. Digitize: store paperwork, books, movies, photos in a digital format so they are compact.
Make Multifunctional Spaces and Housewares: A coffee table that folds out to be a 10 person table, foldaway guest beds, and an office that double as a movie theatre are just some examples of how you can live large in a small area.

Image sourced from the really nice people at becoming minimalist.
As a trained, professional organizer, I really see that the more I own, the more I have to maintain. And simply put, I don't like maintaining. I love creating and being! Especially being with my family. I'm starting to realize all the little things that take up my time, so I can't spend it with my family. Like caring for a big yard or cleaning up toys instead of playing with the kids.

What makes you happy? And more importantly, how can you spend more time doing what makes you happy and less time worrying about your stuff?
Let's make room for the good stuff. Graham Hill
Annalisa Sawatzky
Annalisa Sawatzky is a Pastor's wife and Mother of 2, who holds a Bachelor of Applied Design in Interior Design. Annalisa became a Trained Professional Organizer, and in 2012 started…
---