Recently (May 2) Stephen Poloz was named the 9th Governor to the Bank of Canada (BoC). Relative to his predecessor, Mark Carney, many Canadians will think "Stephen who?".
Who is Stephen Poloz?
First, a quick synopsis of the incoming governor. Mr. Poloz is an Oshawa, Ontario native who has roughly 30 years experience working in the area of finance, economics, and trade. Originally acquiring his B.A. (Honours) in economics from Queen's University and later his M.A. (1979) and PhD (1982) in economics from the University of Western Ontario, Mr. Poloz has spent time with Montreal-based BCA Research, an independent investment research firm specializing in economic forecasts, before joining Export Development Canada (EDC) in 1999 as its chief economist. By 2011 he had become the president and CEO and will act as governor beginning June 3rd 2013.

The main issue that has been brought up when it was announced the BoC would be bringing Poloz in, was "Why have the last three governors been outsiders to the BoC?". Although I am one for meritocracy, it does seem rather strange that the very man that was seemingly groomed for the job, Tiff Macklin, was subsequently denied the position.

Granted, Mr. Poloz does have significant experience in dealing with both the public and private sectors in Canada rather than the more narrow exposure Mr. Macklin may have had working strictly with the Canadian government. Critics here may argue that Macklin's experience guiding the country through the rougher years following the economic crisis should have better positioned him for selection.
How this Affects Canadians
So how will the selection of Stephen Poloz affect Canadian consumers? That is yet to be determined. At the press conference announcing the selection of the BoC governor, Poloz declined to comment on the direction of policy in the near future citing that a consultation with Carney and other current members was required before he would give any hints on the near-term direction of the economy.

Many reports following the announcement seem to be leaning in the same direction, stating that Mr. Poloz appears to be ready to move along with the current policy rather than initiate a change. Given Mr. Poloz's involvement with the private sector and recent rumblings from exporters about the relative strength of the Canadian dollar, one can speculate that Mr. Poloz may keep rates low. For those without a background in economics, it can be broken down this way:
Low rates lessen the demand for a currency, thus the value of the currency will drop.
When the value drops, we see an increase in exports as companies find that the products Canada is offering are selling at a discount due to exchange rates. Like consumers, they're looking for the best prices to reduce their costs. Of course, when exports increase, exporters and their employees start becoming more wealthy and will thus spend more and perhaps help the local economy expand. Simply imagine this on a national scale; the incentive to keep rates low is there, but it won't be there forever (hence the talk of rate-hikes). When the economy heats up, rates will go up to act as a brake on the economy and encourage saving rather than continued spending.

However, Mazen Issa, Canada macro strategist at TD Securities in Toronto, wrote in a research note:
"The ever so slight tightening bias should remain intact". Mazen Issa
The tightening refers to the use of interest rates and the supply of money to determine the pace economic growth in a country.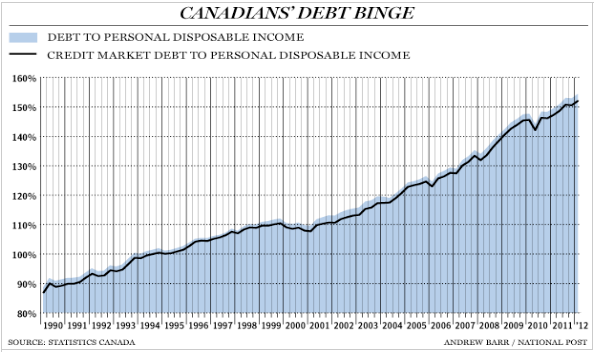 Canadian Debt Loads
Mr. Poloz has expressed his concerns about Canadian debt loads and perhaps curbing that in the near-future. This would equate to further changes in regulations regarding mortgages. Already we've seen the amortization periods cut to 25 years as well as increases in the required down-payments. After being sheltered from the economic crisis several years ago, Poloz will be expected to keep the Canadian economy afloat in the years ahead. This will result in more of a push for a "soft-landing" in real estate markets here (read: incremental rate hikes and a slow-down in housing inventory turnover).
Pending Poloz's stance, a lot could happen to anyone carrying even a modest amount of debt.
Many people will be keeping an eye and ear out to piece together the puzzle that is Poloz.
---
About the Author: Ming Chai is an unlicensed mortgage assistant with First Foundation. Ming is currently undertaking a Bachelors of Commerce with a Major in Finance at the University of Alberta. Ming proudly calls Edmonton home, enjoys good food and traveling whenever possible.
---
Ming Chai
First Foundation is pleased to have Ming Chai join the team as an Unlicensed Mortgage Assistant in a summer work term position. Ming is currently undertaking a Bachelor of Commerce…
---