How to Run Out the Door AND Have Everything You Need!
Series: 10 Tips | A Little Organization Can Save You Time, Money and Sanity!
Last time I shared How to Win the War on Paper! This post is all about pre-planning. We've all been there, out and about with the family and the weather changes, you stay longer than planned and you're hungry... And a fun day out, turns sour. Here's a great way to be prepared without adding extra prep before the outing.

This week's entry is a commentary on "Have Bag, Will Travel" as posted on the Life as Mom blog. Click the image below to read the original post!

LifeasMom suggests making up pre-packed adventure bags. What a great way to look like a hero and save the family outing! I would suggest this idea could be taken further than just adventure bags. What about a dance bag or a karate bag?

Here is my 6 step process for having everything you need, ready to go when you are ready to go!
Step 1: Gather Bags
LifeasMom starts by choosing bags. As a Trained Professional Organizer, I think this puts the cart before the horse, because you don't know how much you have to put in it yet. So, on to Step 2
Step 2: Print Your Lists
LifeasMom has identified an important step in this pre-planning idea. Decide what needs to go in each bag and make a list. Put the list on the back side of the tag to make checking the contents an easy chore.

Image sourced: Life As Mom. Fair Use.
Step 3: Gather Your Stuff
It's scavenger hunt time. You could even make this a family activity! To collect all the items on your lists.
Step 4: Make the Final Decision About Bag Style
Choose what kind of bags are best for your family and items. Zippered duffle bags might be good if you want the contents to stay put. Re-useable bags could be good if you only have a few necessities. A back pack with lots of compartments could be handy for storing many little things....
Step 5: Assemble Your Bags
See how everything fits in. Does it work? Is it easy to use? I would suggest grouping like items in Ziplocs: Band-Aids and Polysporin or sunscreen, lotion and bug cream.
Step 6: Store Bags in an Easily Accessible Place
Find a place by the door or in the garage where you can store these handy bags.
Other ideas for Getting out of the House in a Rush:
Make a Home for Your Keys
Maybe you share a vehicle key with a spouse or a roommate and each of you needs to know where it is at all times. Creating an agreed upon home is the first step. Second and most important step is to always put it away when you walk in the door. It's a habit that needs to be formed.
Have a Coffee Station
Instead of fumbling around in the morning, have everything ready for you at the coffee station. Use the drawers for tea bags or single serving coffee pods. Make sure your go mug is clean and ready to go. Perfect for those mornings when you are running late but can't do without your coffee.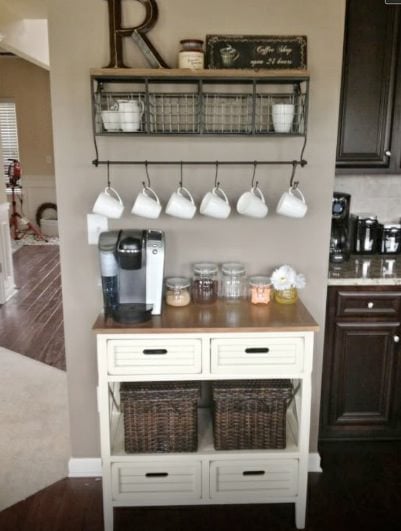 Stay tuned for next time when we talk about Why Every Family NEEDS an Important Document System. Always knowing where your important documents and information is kept, can save you much time searching, especially in a crisis.

In case you want to go back through the archives, here is the complete list of all my blog posts in this series!
Annalisa Sawatzky
Annalisa Sawatzky is a Pastor's wife and Mother of 2, who holds a Bachelor of Applied Design in Interior Design. Annalisa became a Trained Professional Organizer, and in 2012 started…
---