Definition of Mortgage Insurance
Mortgage Insurance is an insurance policy taken out on certain mortgage loans to protect the lender in case the borrower defaults on payments
If the borrower defaults, the mortgage insurer protects the mortgage lender against loss. Mortgage insurance is sometimes confused with Mortgage life insurance, but the 2 are not the same type of policy. Mortgage life insurance pays off the mortgage in the event of the death of the borrower.

Mortgage insurance is most often seen in mortgages with lower down payments, and in Canada, is usually required for mortgages in which the down payment is less than 20% The 3 providers of mortgage insurance in Canada are the Canada Mortgage and Housing Corporation (CMHC) or Genworth Financial Canada and AIG.

As with other insurance policies there is a premium that must be paid, and is charged to the lender, who will in turn, pass the cost of the premium to the borrower. The premium is determined based on a percentage of the loan and the size of the down payment, where a lower down payment means a higher premium. The premium can be incorporated into the mortgage as part of the monthly payment, or paid up front.

There are other qualifications for mortgage insurance, such as restrictions on the source of the down payment and percentage limits of the Principal, Interest, Property Taxes, Heating (PITH) to gross household income.
Advantages of Mortgage Insurance
The existence of mortgage insurance allows the borrower to purchase a home with a lower down payment than is normally true. The ability to purchase a home with a lower down payment has opened the housing market to many thousands of people who would otherwise be unqualified.
Currently mortgages can be obtained with as little as a 5% downpayment because of mortgage insurance.
Disadvantages of Mortgage Insurance
Mortgage insurance adds to the cost of the mortgage, and increases as the percentage of the down payment decreases. A standard premium may be as little as .5% for a mortgage with a 35% down payment but may be as high as 2.75% for a mortgage with a 5% down payment.
Canadian Mortgage Insurance Providers
In Canada, there are 3 mortgage insurance providers, they are:


Cost of Mortgage Insurance
Here is a chart from the CMHC website that outlines the different mortgage insurance premiums based on downpayments.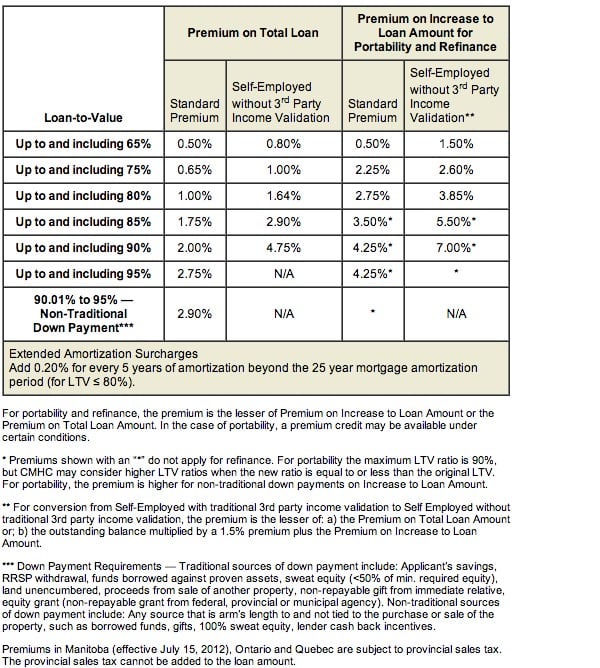 ---
Example
Mr. McGillicuddy borrows $200,000 and has a 35% down payment. If mortgage insurance is purchased the premium will be approximately $1,000.

Mrs Danforth borrows $200,000 and provides a 5% down payment. Mortgage insurance is purchased, as it is required, and the premium is approximately $5,500.

As a part of your mortgage loan transaction, First Foundation will discuss the requirements of mortgage insurance, what they mean and how they will affect you.
Related Terms
If you are interested in learning more about mortgage insurance, please feel free to contact us today!